April 2019: 5 Books In The Queue
What we're reading, digging, and maybe even sometimes lagging on this month.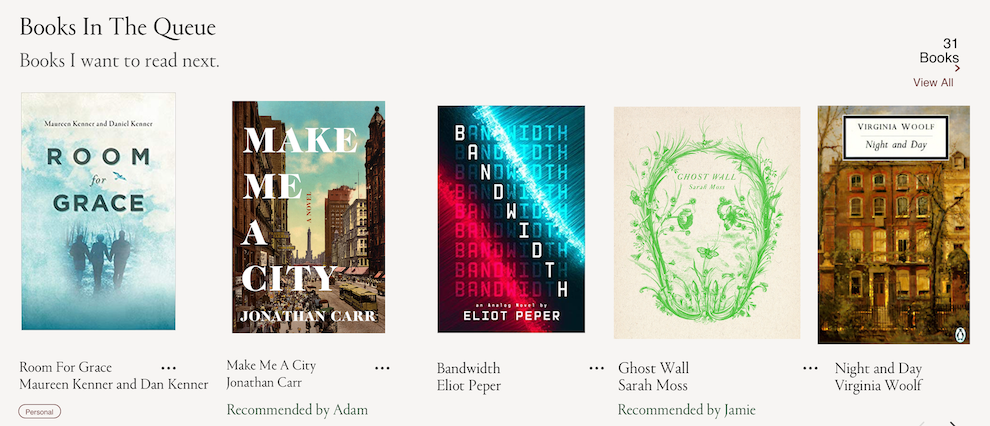 Keeping track of all the books you want to read, and deciding what to read next, can be a little tricky.
Maybe, like me, you experience a lot of different inputs when it comes to the queue of books you want to read. Your friends tell you about a book, or you hear about something on the radio, or you take a class and the teacher recommends something. Then, on top of that, you have book club books, personal pick books, even sometimes books your friends have written!
One of the reasons we decided to build a new online platform for books was to make it easier to keep all of the different book suggestions you collect over time all together in a single list.
I wanted to share an early preview of how we envision this queue feature working – using my own night table stack.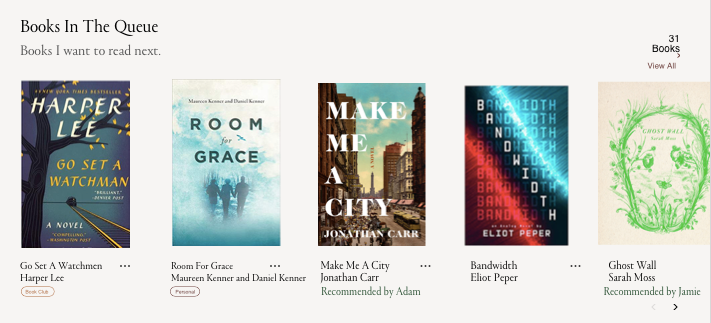 What would yours look like?
My Reading Queue: April
Go Set A Watchman by Harper Lee
My book club is reading Lee's controversial prequel / sequel to the enduring classic, To Kill A Mockingbird. The meeting is on April 9 and I need to get on it!
Room For Grace by Maureen Kenner and Daniel Kenner
My friend Dan co-wrote and compiled a beautiful memoir of his mother's life, inspiration as a Special Ed teacher, and struggle with cancer. It's a book about reframing challenges, and finding the beauty and positivity in hardship. Lessons we could all use – whether confronting disease or taking the leap to start a company (GULP.)  
Make Me A City by Jonathan Carr
This book came across my radar as things often do in life - through a random confluence of people, events, and circumstance. I recently took a class at StoryStudio to learn more about best practices in book review writing. Adam Morgan, Editor in Chief of the Chicago Review of Books, was a great instructor and a really nice guy. A nice guy who is super smart about books? That earned a Twitter follow. And when he later tweeted out a special edition of #CTAreads recommending Make Me A City about "19th-century Chicago's meteoric rise thanks to the tragic European-American exploitation (and destruction) of indigenous people" – I immediately added it to my Italic Type queue.  
Bandwidth by Eliot Peper
A few months ago I had the good fortune to meet the author at an event and win a copy of the book. The signed inscription on the front page exhorting me to "seize the future!" has lingered on my book shelf. This month I'm committing this book to the present.
Ghost Wall by Sarah Moss
My friend Jamie recently recommended this book to me. With the Italic Type system, any time a friend shares a recommendation with you, it goes straight into the Top 5 of your book queue. Once I start reading it, Jamie will get a notification that I've started and that will open up a dialog chat for us to exchange views. Because one of my good friend's recommended it to me, and is interested to know what I think, I am extra motivated to read it!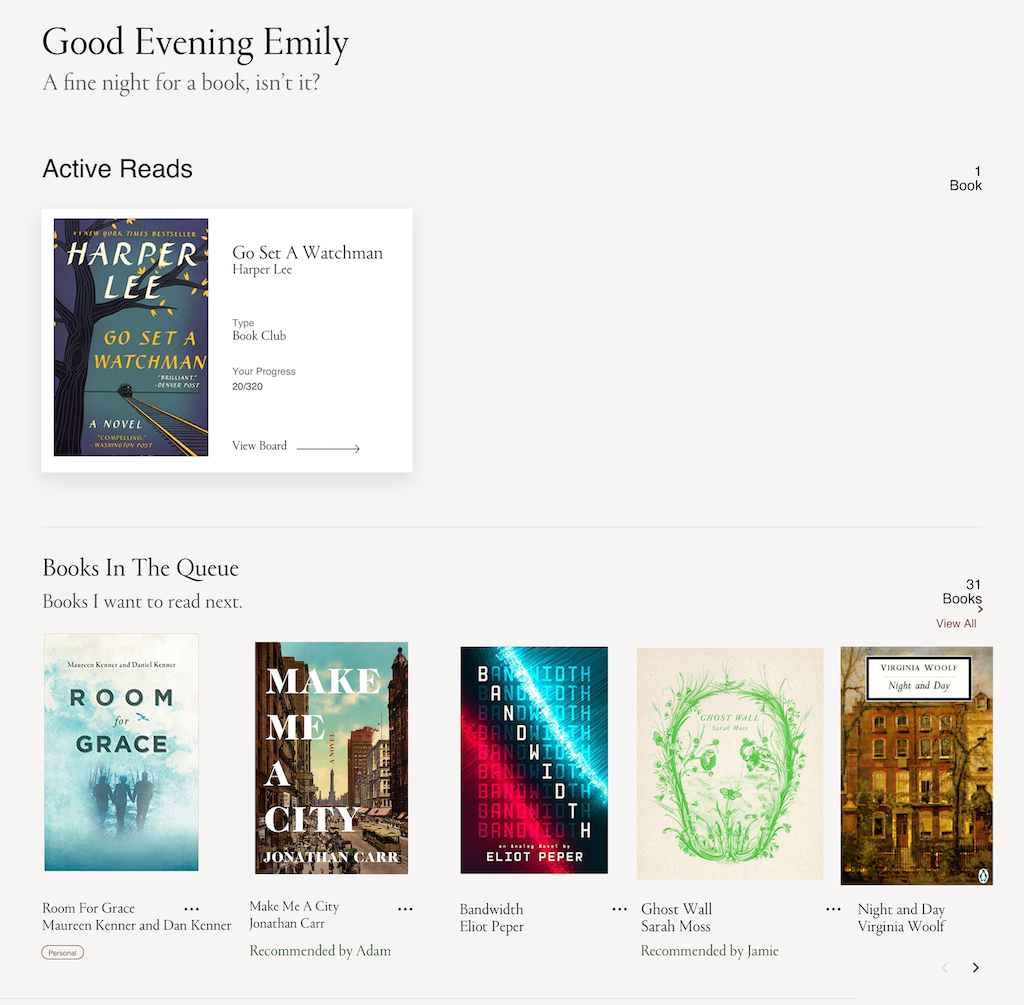 Once you start reading a book on Italic Type, it moves from your "Book Queue" to your "Active Reads" section. And then, once you finish the book, it goes into your "Past Reads" [not shown].  
The next feature we'll explore on the blog is how we are creating social incentives for people to share and read books together – helping folks move books out of the Queue and into Past Reads.
These are exciting times at Italic Type as we dig in to complete our prototype software! Stay tuned for more fellow bibliophiles!